Southern Maryland Roof Cleaning
Southern Maryland roof cleaning, What is this all about?
Do you have those ugly black stains on your roof? Are you wondering if a roof cleaning might be an option to replacing the roof? Are you selling your home?….We will get to that later.
Chances are very good, that roof cleaning is an option for you! Save about 90% of what it would cost to replace it.
Here is an article from the Washington Post about those black stains.
We will sum up some of that article next, with some our own thoughts. The black stains on the roof are a living organism. An airborne spore that travels from roof to roof. The black stain is a bacteria that feeds off the limestone in the shingle. The Asphalt Roof Manufacturers Assoc. and Owens Corning (roof shingle manufacturer) says, that there is only ONE way to wash shingles. That method is a NON pressure method. Even low pressure could cause damage.
Here is a before and after picture of a roof cleaning we have done.  It may look like yours?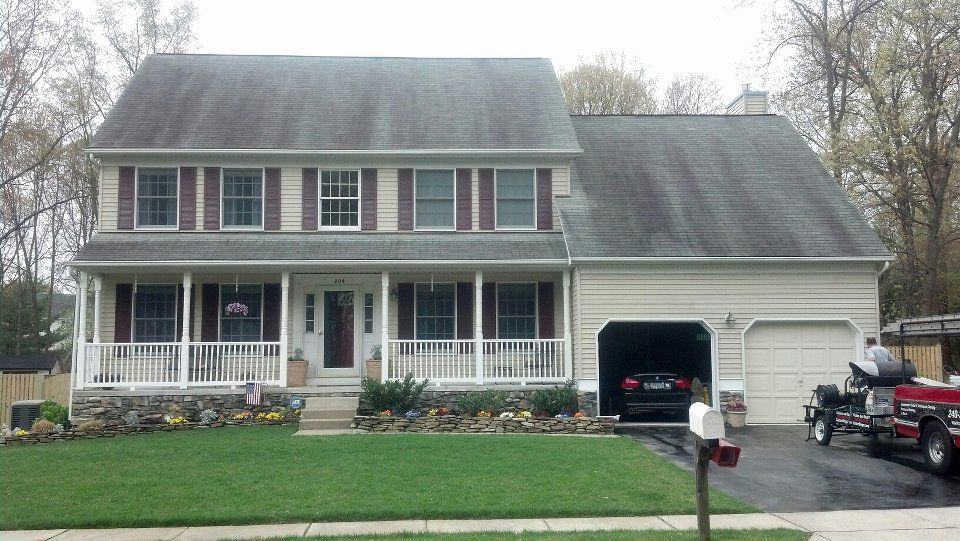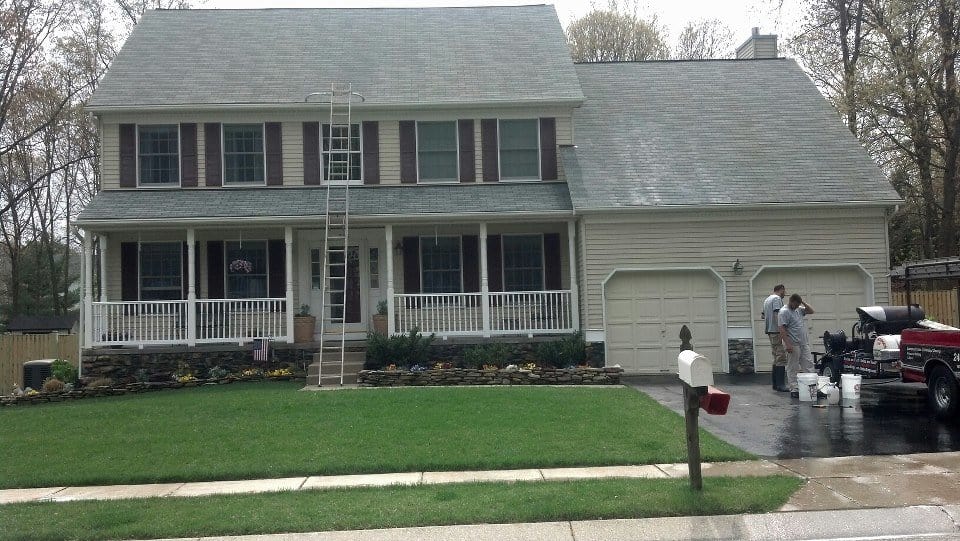 We offer a safe non pressure method for roof cleaning in Southern Maryland.
We service all of Southern Maryland. As you can see, our roof cleaning results are instant!
We offer other cleaning services too, ..not just roof cleaning. We offer a low pressure siding cleaning, with WAX!, mold removal on brick and concrete, Rust stain removal, Gutter cleaning, Dryer vents.  So much more.
Selling your home?
This is what I was talking about up top. Save some money, and have us do it all for you, in one day!
Give us a call today for a fast free estimate 240-355-1110,
Our Website.
Still not convinced?
We offer a 5 year no stain guarantee on complete roof cleanings!
We have been cleaning roofs for well over 5 years now. We feel confident with our guarantee.
Give us a call 240-355-1110 and we would be glad to answer any questions that you may have about cleaning your roof in southern Maryland. We want you to make an educated decision.